In the nearly 40 years since our founding inside a Brentwood, Calif. garage in 1979, Teradata has grown to become the dominant
cloud-based data and analytics
company, serving the largest and most visionary enterprises in the world.
Meanwhile, "analytics" has become a $200 billion industry, fueled by speed, scale, and competition within the rising digital economy. But as the rate and intensity of data has grown, today's market has become saturated with copycats and new entrants who have only served to add complexity and uncertainty for companies hungry to invest in answers – not more analytics.
Teradata has recognized this new reality and today unveiled a reimagined approach to the market that has redefined its position in the category of analytics; establishing entirely new criteria and expectations for intelligence solutions in global enterprises. The company is leading this effort from its San Diego campus which, as of today, is Teradata's new global headquarters, taking advantage of the West Coast's deep ties to technology innovation and talent.
Today, we are also unveiling a new company identity. Part of this is a new logo that better reflects where we are as a company - a hybrid cloud data analytics software company. Not only is it more contemporary, but we retained our signature orange in the period as an acknowledgment of our heritage.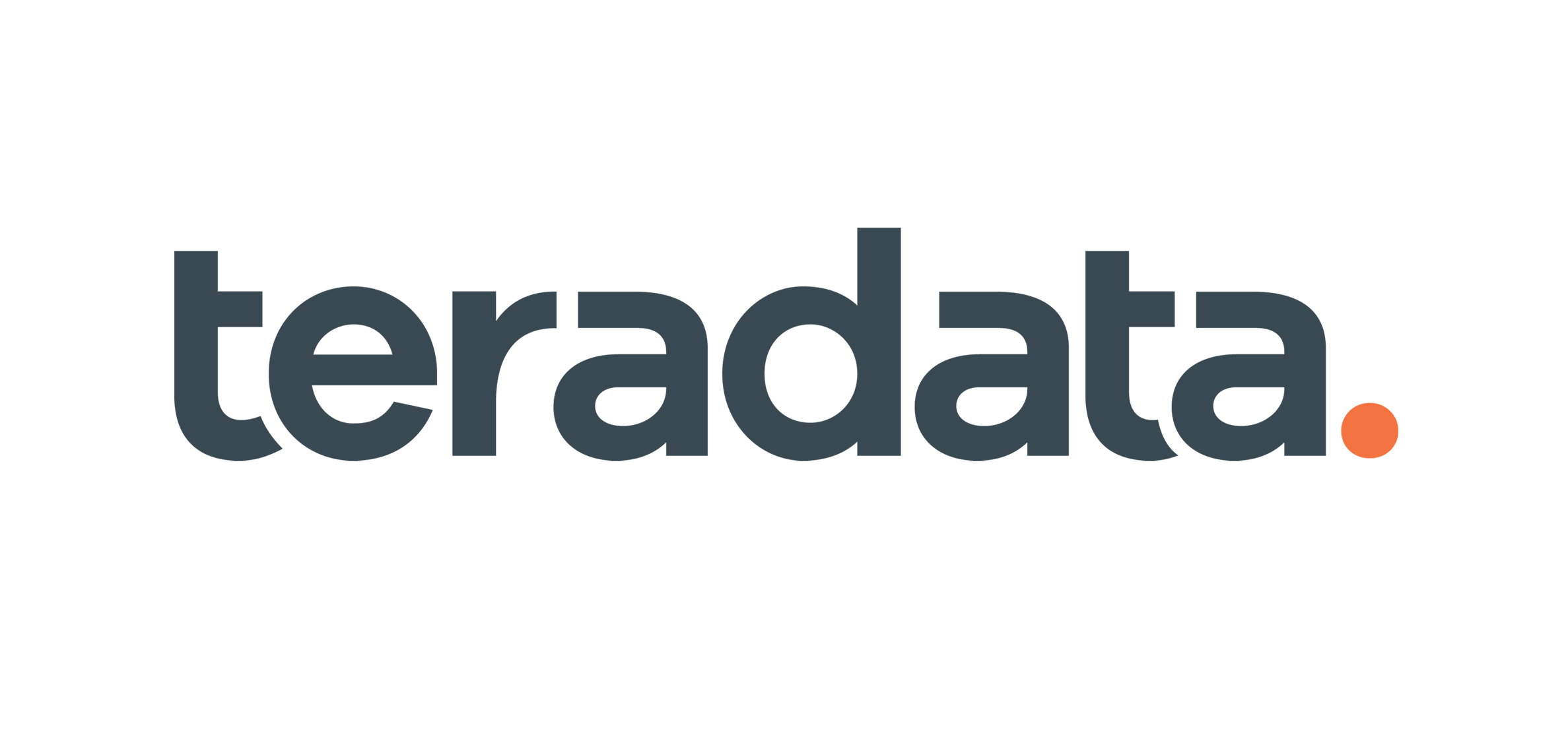 CEO Victor Lund said this of our strategy:
"Uncovering valuable intelligence at scale has always been what we do, but now we're taking our unique offering to new heights, unifying our positioning while making our software and consulting expertise available as-a-service, in the cloud, or on-premises. We're doubling down on our ambitious direction and strategy that's data-based, customer-centric and built on expertise. Today, we challenge the industry."
Driving this new approach is Teradata's singular ability to encompass all the data, all the time, to find answers to the toughest challenges. Teradata delivers real-time, intelligent answers, regardless of scale or volume of query. And it's done on-premises, in the cloud, and anywhere in between. This is "pervasive data intelligence," which only Teradata has the industry-leading products, expertise, and services to deliver today.
Leading the way is Teradata Vantage, the only platform for pervasive data intelligence. Vantage provides businesses the speed, scale and flexibility they need to analyze anything, deploy anywhere and deliver analytics that matter. Vantage delivers true intelligence about what matters most to the success of each business.
But technology is only part of the story. Teradata Consulting provides access to more than 5,000 experts around the globe and the ongoing service capabilities needed to implement pervasive data intelligence across the largest enterprises, solving some of the world's most challenging problems.
Our COO, Oliver Ratzesberger, put it this way:
"Teradata brings a unique combination of transformative technologies and people with unparalleled expertise together to achieve our bold ambition – transforming how businesses work and people live through the power of data. As such, we are the only analytics company able to help our customers rise above the complexity, cost and inadequacy of today's analytics landscape, finding answers to the toughest challenges – providing answers that will push the world forward. From our products to our people, our position as the leader in pervasive data intelligence redefines everything we do."
Get the answer at the new
teradata.com
.
Bleiben Sie auf dem Laufenden
Abonnieren Sie den Blog von Teradata, um wöchentliche Einblicke zu erhalten
Erfahren Sie mehr von Teradata